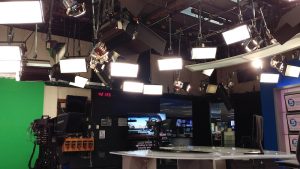 The first words out of an anchor's mouth as he or she introduces a story is the lead; some spell it lede.  A television news lead differs greatly from the newspaper lead. In TV, we don't give all the information up front; we try to grab and hold a viewer's interest so they will continue watching.
Lead-writing is an art form, meaning it can be hard to define exactly how to write a good one, but you know a good lead when you hear one. They are a chance to be creative, catchy and clever. They are also very important: get one wrong, and you could lose your viewer. Your competition is fiercer than ever, and you need to guide your viewer along.
You must accomplish three basic things in a lead, all three, every time (well, almost every time; this is an art, after all):
Capture the viewer's attention.
Set the tone of the story.
Prepare the viewer for the information to follow.
Leave out such information like names, ages, addresses and other details if they are not interesting or part of the news hook. If someone has the same name as Taylor Swift and her mail is getting mixed up, the name could be in the lead. If an address is 1600 Pennsylvania Avenue, that could work. If a 100-year-old just graduated from high school, the age could belong. Notice that in all of these examples we use could, because you could take another angle in the lead and not use any details.
Present-tense leads are preferred, and future-tense leads are even better. Present-tense leads make your newscast sound up-to-the-minute, allowing your viewer to feel the same.
You write a present-tense lead by writing what is true now. The woman who robbed the quilt shop was arrested at 10:00 this morning, so what is present for your six o'clock newscast? She is in jail. The owners are relieved. Police are building a case against her. Pick whichever of these you can write the most compelling lead about.
Example 1:
A WOMAN IS WEARING ORANGE TONIGHT AFTER POLICE SAY SHE ROBBED A QUILT STORE TO SEW HER OWN CREATIONS.
Example 2:
THE OWNERS OF A QUILT STORE ARE RELIEVED TO KNOW THE WOMAN WHO ROBBED THEM WON'T BE COMING BACK SOON.
Example 3:
POLICE ARE PATCHING TOGETHER THEIR CASE TO PROVE A LOCAL WOMAN GOT HER SEWING DONE BY STEALING IT.
These examples just show the first two purposes of a lead; they still need to prepare the viewer for what follows. If these introduced VOSOTs or VOs, you could take the video next. A lead for a package might finish up like this:
SOME QUILT STORE OWNERS ARE RELIEVED TO KNOW THE WOMAN WHO POLICE SAY ROBBED THEM WON'T BE COMING BACK SOON. OUR MISTY INGLET TAKES YOU BACK TO THE STORE WHERE ONE PHONE CALL FROM POLICE MADE THINGS A LOT LESS TENSE.
A plaguing problem in broadcast news writing is false present-tense. The basic form is: "a man walks into a bar…" We tell jokes in false present-tense, but news should not be done this way.
Past tense:
A MAN WALKED INTO A QUICK-D MART THIS MORNING, POINTED A GUN, AND DEMANDED ALL OF THE BEEF JERKY ON THE COUNTER.
False present tense:
A MAN WALKS INTO A QUICK-D MART THIS MORNING, POINTS A GUN, AND DEMANDS ALL OF THE BEEF JERKY ON THE COUNTER. 
Real present tense:
POLICE ARE LOOKING FOR A MAN WITH A GUN AND A LOT OF BEEF JERKY TONIGHT. THEY SAY HE COULD BE THE ONE WHO ROBBED A QUICK-D MART AT GUNPOINT.
Another example, past tense:
A BABY FELL OUT OF A WINDOW YESTERDAY, BUT IS O-K BECAUSE IT LANDED IN A PILE OF SHAVING CREAM.
False present:
A BABY FALLS OUT OF A WINDOW YESTERDAY (now we're getting confusing), O-K BECAUSE IT LANDS IN A PILE OF SHAVING CREAM.
Real present tense:
A BABY IS O-K TODAY THANKS TO A PILE OF SHAVING CREAM. THAT WAS AFTER IT FELL OUT OF A WINDOW.
Maybe for something like this example (based on a camp song), a present-tense lead is not the way to go. There are plenty of other types of leads to use instead.
Narrative Lead – start telling the story from the beginning:
SHE PUT HER BABY IN HIS CRIB BY THE WINDOW, BUT WHEN SHE CAME BACK SHE WAS IN EVERY PARENT'S NIGHTMARE… FOR REAL
Connection with viewer – try to get them involved:
YOU CAN IMAGINE THE TERROR OF YOUR BABY FALLING OUT OF THE WINDOW. NOW CAN YOU IMAGINE IT BEING SAVED BY A PILE OF SHAVING CREAM?
Mystery lead – keep something out to keep your viewer curious:
A BABY'S LIFE COULD'VE ENDED IN STRANGE WAY… BUT IT WAS SAVED BY SOMETHING EVEN STRANGER.
Update lead – this is for a story you have reported on previously:
WE TOLD YOU OF THE BABY WHO FELL OUT OF A WINDOW. TURNS OUT HE'S O-K… SAVED BY A PILE OF SHAVING CREAM.
Build on a quote – you have to be careful with this one, but it can be done:
LOU GEHRIG SAID HE WAS THE LUCKIEST MAN ON THE FACE OF THE EARTH. IF SHE COULD TALK… A BABY WOULD BE SAYING THE SAME THING TONIGHT.
Significant detail – if there is something extraordinary–yes, even a statistic, you can lead with that:
FIVE-THOUSAND CHILDREN FALL OUT OF WINDOWS EVERY YEAR. FOR MOST… IT GOES BADLY. BUT ONE LOCAL BABY ESCAPED WITHOUT INJURY…THANKS TO A PILE OF SHAVING CREAM.
We can be amazed and try many approaches because the baby was uninjured. When people are hurt, your choices narrow, as you must stay respectful of their situations.
Every writer will tell you some things to avoid. We assembled our own list of eight to avoid:
Don't start with a turn-off. "This is the most disturbing thing you'll hear all day…." Why would I stick around for that? Of course, you will do stories that disturb your viewers, but don't start off with that as a lead.
Don't give orders, telling them to check this out or other bossy commands.
Don't tell your viewers the news is good, bad, disappointing or whatever. First, respect their intelligence to know; second, they may be more engaged if they have to figure it out for themselves; third, you may be showing a bias; and last, good news for some is bad for others: At my first TV job in California's oil country, when gas prices went up, more people got work in the oil fields. Very low gas prices meant layoffs. If you keep judgments out of your writing, you'll never end up on one side or the other.
Don't start a story with a question viewers can answer "no" to and move on:
"Have you ever wondered how they time traffic lights?" "No, next channel." Instead, try, "sometimes it seems like you hit every traffic light red…"
Don't date your story in the lead. If you're not using a present-tense lead, that's OK, but don't use words like yesterday or last month off the top.
Don't start a story with "another" or a similar word that lets viewers know it's more of the same. If there is a rash of something, that information should be included, but not off the top. The following examples in this clip break that rule, but the amount of crashes is the problem.
Don't cram too much information into the lead. The lead has its purposes, and that is all. Get to the video as soon as you can and start telling your video-driven story.
Don't congratulate each other. Let the viewer decide if you did a good job or not.
Don't drop verbs. "Is" isn't the best verb, but at least it is one. A MAN… IN JAIL TONIGHT AFTER POLICE SAY HE ROBBED THE QUICK-D MART. This is common, and it tortures English teachers and anyone else who cares about humanity's need to communicate. Changing MAN to MAN'S won't take but a fraction of a second more of your show.
Now, four keys to successful leads:
Write in active voice. If you can stay SUBJECT-VERB-OBJECT, you'll avoid passive voice. Tell your viewer the person/force/organization that did something, and speak in a conversational tone.
Use the most powerful verbs you can. The verb to be is not one of these. Use verbs instead of nouns where you can. Try, "fire burned the building;" not "there was a fire at the building."
Read the lead aloud to make sure it flows, is well-spoken and sounds right coming from the anchor's mouth. Good anchors will change things around a little so scripts sound the way they talk. Lazy or rushed anchors read whatever pops up in the prompter cold and sometimes are burned.
Stay viewer-centric. Relate news directly to your viewer whenever possible. I knew a news director who paid his main producer 25 cents every time he used the word "you" in his writing (25 cents was more money back then). Sometimes it's not appropriate, but if you can make it work, bring in the viewers and their interests. Treat them like selfish, self-centered people and you'll keep them engaged. I am not saying viewers are self-centered, but most people would have a harder time turning off your newscast if it were all about them.
These lists, guidelines, rules and laws might seem paralyzing. I hope the opposite is true. When you sit in front of a blank script, I would hope a rule or guideline can help you get started.